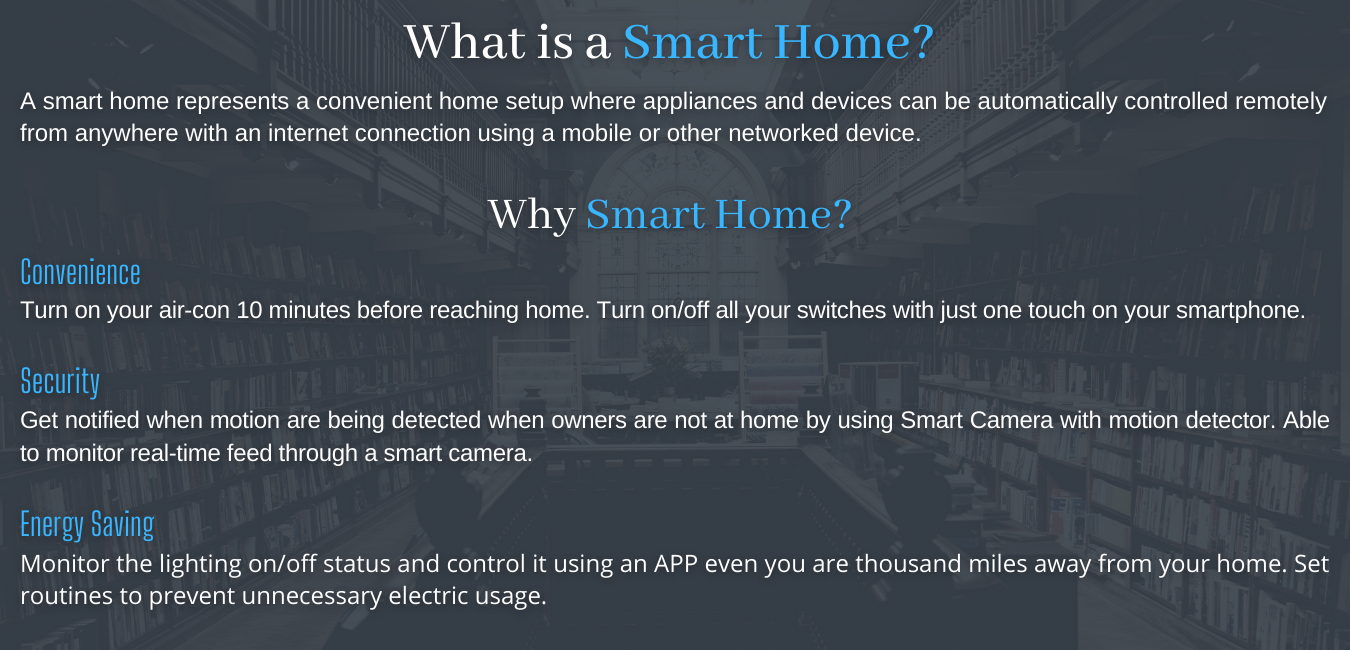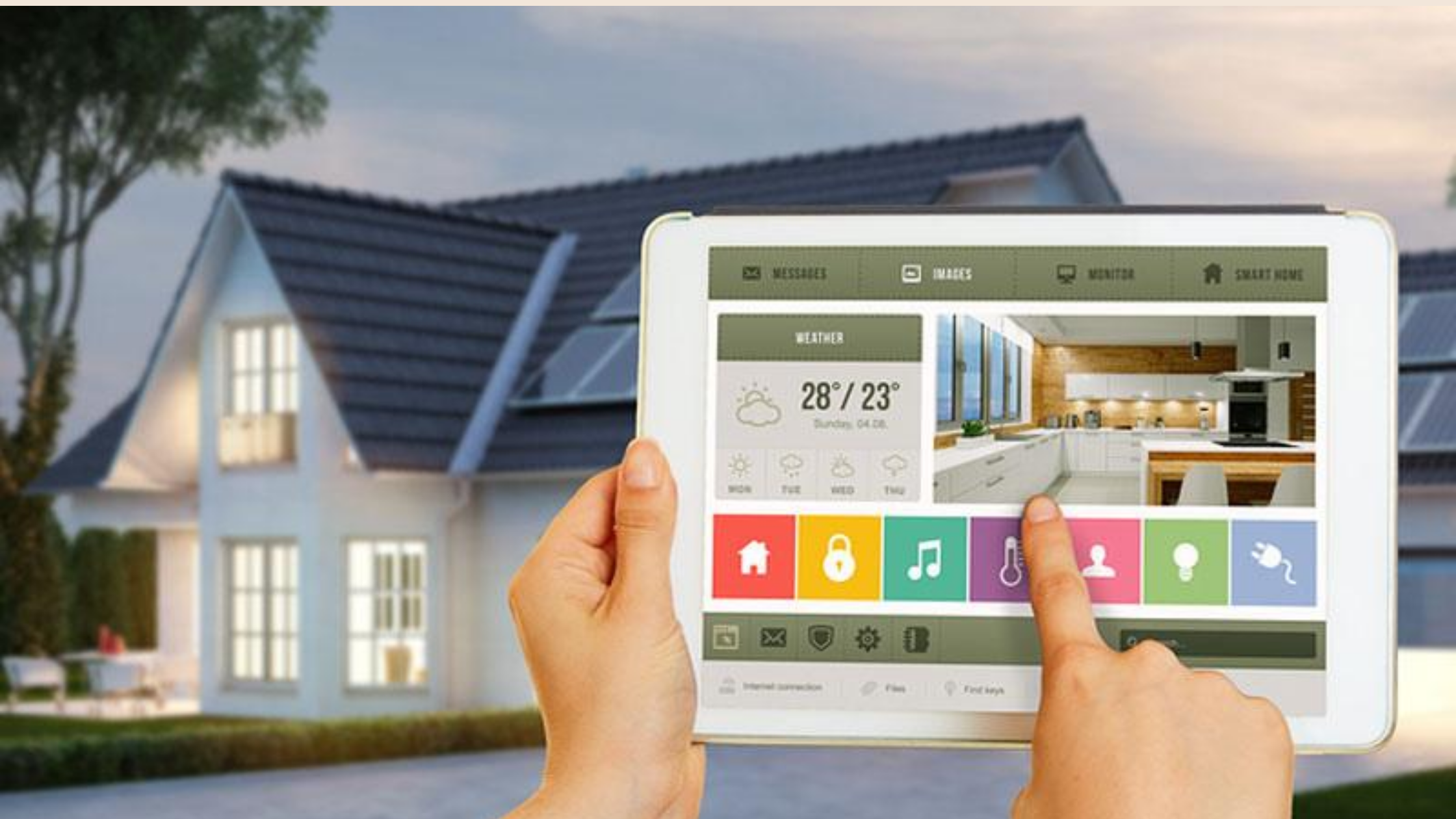 What Is a Smart Home?
A smart home refers to a convenient home setup where appliances and devices can be automatically controlled remotely from anywhere with an internet connection using a mobile or other networked device. Devices in a smart home are interconnected through the internet, allowing the user to control functions such as security access to the home, temperature, lighting, and a home theater remotely.
How Smart Homes Work
A smart home's devices are connected with each other and can be accessed through one central point—a smartphone, tablet, laptop, or game console. Door locks, televisions, thermostats, home monitors, cameras, lights, and even appliances such as the refrigerator can be controlled through one home automation system. The system is installed on a mobile or other networked device, and the user can create time schedules for certain changes to take effect.
Smart home appliances come with self-learning skills so they can learn the homeowner's schedules and make adjustments as needed. Smart homes enabled with lighting control allow homeowners to reduce electricity use and benefit from energy-related cost savings. Some home automation systems alert the homeowner if any motion is detected in the home when they're away, while others can call the authorities—police or the fire department—in case of imminent situations. Once connected, services such as a smart doorbell, smart security system, and smart appliances are all part of the internet of things (IoT) technology, a network of physical objects that can gather and share electronic information.
Advantages of Smart Homes
Installing a smart home technology system provides homeowners with convenience. Rather than controlling appliances, thermostats, lighting, and other features using different devices, homeowners can control them all using one device—usually a smartphone or tablet.
Since they're connected to a portable device, users can get notifications and updates on issues in their homes. For instance, smart doorbells allow homeowners to see and communicate with people who come to their doors even when they're not at home. Users can set and control the internal temperature, lighting, and appliances as well.
For the cost of setting up the smart system, homeowners can benefit from significant cost savings. Appliances and electronics can be used more efficiently, lowering energy costs.
How Smart Homes Benefits Your Daily Life
Imagine waking up everyday and all you need to is to have one touch of your phone/tablet and all your lights, fans, & even water heater will be turned on. You don't have to worry about turning each appliances one by one anymore. After getting done with your morning preparations, you just need another touch to turn off all home appliances and you don't have to worry about leaving your lights, air-con, and water heater on. Electricity bill will surely go down in the long run.
With Smart Home systems, you can even monitor your own home even when you're thousand miles away from your home. Smart homes let you have a peace of mind as you have full control over your home. Worrying about your children and elderly at home will be the last thing you have to worry about now. As the main objectives of smart homes is to change lives and bring convenience to the community.
Examples Of Smart Homes Videos
Video Credit: RumahPintar
WHY SMART HOME?
COMFORT
Your home should provide a haven where you can relax and unwind. A smart home solution system can enhance this experience, creating a tranquil environment that promotes stress relief. SmartRuma's home solution system ensures that you can have peace of mind regarding unused electrical components. You can now monitor the safety of your loved ones, whether they are children or the elderly, while you are at work. With a smart home system, concerns about safety will be eliminated. You work hard enough. Allow us to take care of your home and family.
Convenience
As life gets busier by the day, we could all benefit from a reliable and efficient smart home solution like SmartRuma. With SmartRuma, you can program your lights to turn on even when you're away from home. You can also set up preprogrammed security alarms to ensure your safety is not compromised. Additionally, you'll receive smartphone notifications whenever something unusual is detected, giving you peace of mind. The setup process is straightforward and hassle-free with our assistance. Experience a simpler lifestyle with SmartRuma.
Control
Whether you're away from home or occupied with work, concerns regarding leaving doors open or lights on can now be alleviated. With numerous features, applications, and advantages, a complete home solution provides complete control for you and your family. Effortlessly oversee and regulate energy consumption to help reduce costs. A live video feed of who is at the entrance can be viewed, and the door unlocked via your cell phone. Access to any area of your home is available on-demand, from any location. The SmartRuma smart home solution delivers complete control of your home, accessible right in the palm of your hand.